Mamsey Bear and Mopkin
Book 3 in the Hopalong Hollow series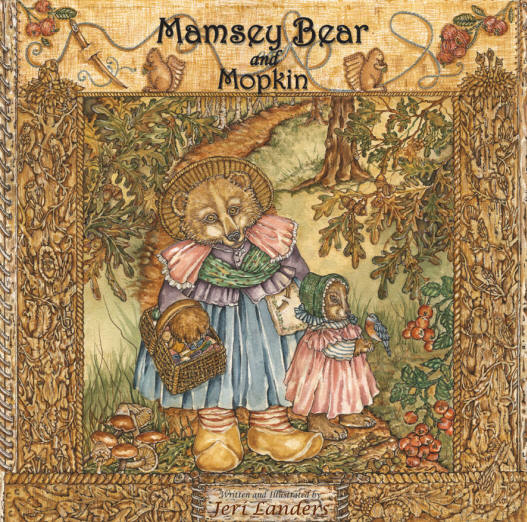 Books ship out immediately!
Shipping charges are $5.00 for 1-3 books and $1.00 for each additional book. Orders outside of U.S. please email us for shipping charges.

If you would rather not order online please call us at 865 828 8280
OR
e-mail us at: jeri@hopalonggreetings.com
OR
order with a check via the post. Be sure to include your shipping address, the number of books you want and who
you would like them signed to. Checks payable to Jeri Landers ;Our address is 391 Joppa Mountain Road, Rutledge, Tn. 37861
Book Synopsis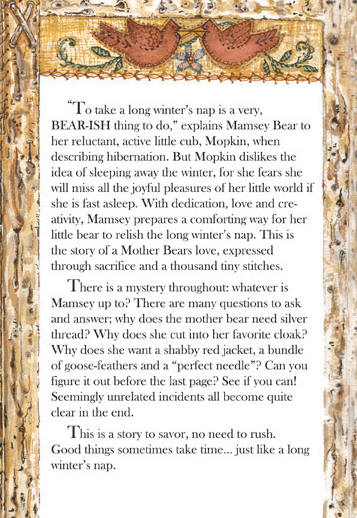 Audio Download !
Narration by Jeri Landers
You can save this file to your own computer or just listen from here.
I had a hoarse throat while recording this, so my voice sounds a bit froggy
As with my other books, this one took me two years to complete. I recorded the journey on this website
on the page entitled, "Working on Book Three". You can link to the "journal" from the Home page.
I am thrilled to offer this book to you at last !
This first run is an edition of 3000 books, which ARE NOW PRINTED, and are, at this very moment, making the long journey across the ocean to our
warehouse in East Tennessee. Projected arrival date to our warehouse is December 18th. We HOPE we can get your books to your
before Christmas, but there is no guarantee of it.
I will sign your book, and there will be a special message written to the recipient and a Remarque as well.
For those of you have called, sent emails and inquired at shows, "When will you have that new book out?", I thank
you for your wonderful patience and patronage!
I hope you think it was worth the wait!