"Hopalong Greetings"
by Jeri Landers


All Cards measure 5" by 7" and are Blank on the inside.
Jeri Landers whimscial characters come alive in her delightful card line of "Hop a Long Greetings". Jeri launched "Hop*A*Long Greetings" in 2000 with 35 designs taken from her watercolor paintings and painted paper cuttings. The designs in this card line have the look and feel of characters from vintage storybooks, sometimes with contemporary twists. In Jeriís world, rabbits ride upon roosters and cows do their laundry. It is all in great fun and the love the whimsy! All greeting cards are5x7, blank on the inside, and titled on the back Each card retails for $3.00 each.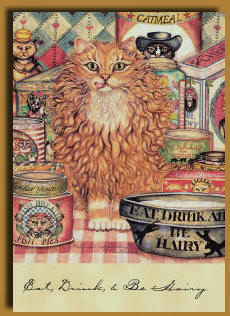 Wholesale prices are available upon request.