Book Reviews

The Old School House Magazine
Book review by Kate Kessler

The Journey of Bushky Bushybottom and Hopalong Jack and the Blue Bunnies are two very beautiful and creative children's books. Written and illustrated by Jeri Landers, these oversized hardback books are a feast for your children's eyes.

The Journey of Bushky Bushybottom is the story of a young squirrel brother and his two sisters. Young Bushky is separated from his sisters during a storm "when a massive gust of wind lifted him up and carried him whirling and twirling through the sky, hither and yon!" He lands with a thud a goodly distance from his home and meets an owl. Bushky quickly realizes that to the owl, he might be considered dinner, so hides himself under a stump. Along Busky's journey to find his home he meets many animals: a possum family, a frog, a turtle, the twin raccoons (who love to rhyme), and Mrs. Webbytoes the duck, along with her children, who tell him to find Mr. Red Rooster. He introduces himself to the creature he thinks is Mr. Red Rooster, but Sir Percival the fox is most decidedly not Mr. Red Rooster! He is interested in Bushky because he might be a savory meal! Will Bushky make it home to his family? (Yes!)

In Hopalong Jack and the Blue Bunnies we find ourselves in Hopalong Holllow with a very dissatisfied bunny named Hopalong Jack. "Ever since Hopalong Jack was just a wee baby bun, his earliest memories were of brothers, sisters and cousins as far as the eye could see." Jack is surrounded by bunnies and longs to be different from the other bunnies. He tries all sorts of amusing ways of setting himself apart from the crowd, but the other bunnies like his changes so much they make them too! He even dyes himself with blueberry juice and of course, all the other bunnies decide to do it too--the "Blue Bunnies" of the title of course. Upon hearing some wonderful music made by other woodland creatures, Hopalong finds himself dancing in his own unique manner. On his way back to the Hollow, he is joined by other little bunnies that have picked up his rhythm, but have added to it. They discover they can all make creative melodies and that they enjoy it very much! Hopalong Jack comes to realize "...that being special comes from inside your little bunny self and that all bunnies are special in their own way." I like to add for my children that God is the giver of all good gifts and that it is He that makes us unique.

The lush scenery Jeri Landers offers our children in these full-color books is really beautiful to behold. The subtle color palette of Hopalong Jack is more subdued yet fills the pages with natural browns, greens, golds, and blues with highlights of brighter colors. She showcases the Scherenschnitte craft on the facing pages of this book. "Scherenschnitte (pronounced Sharon-sh-net, if German or Sharon-sh-net-ah if Swiss) is the German word for the art of scissors snipping or paper cutting." It is beautiful! Her website gives you instructions on how to do some of it with your children. This story was cute and enjoyable, but my favorite was The Journey of Bushky Bushybottom.

The Journey of Bushky Bushybottom has a brighter palette with the same beautiful base colors of varied greens, golds, browns, and blues, but she adds brighter colors more often with reds, pinks, yellows, and a lovely sky blue. (There are sample pages on her website.) It has a very wonderful Beatrix Potter feel to it yet it is a story all its own with vibrant creative characters and imaginative names. While the animals are depicted in a highly enjoyable anthropomorphic manner with beautiful clothing and clever conversation, they are realistically drawn. It is quite easy to tell that the villain is a fox and the central figure, a young squirrel. I read this one to a group of five young children, aged ten to four, and every one of them was trying to get closer to view the lushly covered pages. They were all silent as I read the delightful story. It was a wonderful read-aloud--especially with inventive voices--and the book offered wonderful vocabulary. She does not dumb down her stories, yet the children knew exactly what was going on. This book also comes with a CD of the story that they wanted to listen to before bed that same night! It is awfully refreshing to see such care and attention to detail and fine craftsmanship in books for children. These are definitely keepers!


Editorial review from Heartland Reviews:
Rating: 5 hearts

"This gorgeously illustrated children's picture book looks like something
Beatrix Potter might have done, only better. The artwork is exquisite,
using a combination of water colors and old/new world paper cutting. The
story is cutely funny about a young rabbit, Hopalong Jack, who feels
frustrated about having so many brothers and sisters (we all know rabbits
don't add; they multiply.) This is especially irksome because so many of
them look up to Jack and copy everything he does to appear different from
them (does this sound like a middle-school peer group?) When Hopalong Jack
uses blueberries to dye his fur blue, all his fellow siblings follow suit.
When his brothers and sisters begin copying his discovery of music and
dance, he finally realizes being a trend setter is not such a bad thing.



Although written for a younger set, there are lessons here for slightly
older children as well. The artwork is more intricate than a "Where's Elmo"
book. Reading this work requires repetitive study to extract all the nuances
from its pages. We rated it a very high five hearts." Bob Spear, Chief reviewer
Chief Reviewer: Bob Spears
"Jeri Landers is my favorite children's picture book writer/illustrator. Her artwork is incredibly beautiful and complex, reminiscent of Beatrix Potter's books. This is her second book project (each one takes her about two years). In addition to the book, she has included a CD of her reading it aloud, giving the characters their own voices.


The story is about a young squirrel who is blown out of his tree by a storm wind and sent over the forest to land a great distance away. On his way to return to his home, he is helped by friendly animals of the forest and threatened by others. It is a highly entertaining project with hours of togetherness fun for parents and children. We rated it a high five hearts."
"It's so refreshing to read a clean, self-affirming book for children, without
issues, in clear language, that tells a good story about life in a happy
hollow where the only shading is provided by tall trees with deep roots firmly
planted in the good earth. Young minds should be able to grow, like these
bountiful trees and shrubbery, in fertile vales, where the shrill sounds they hear
are crickets and the rumblings they hear are from a near-by brook.
This is just such a book. I was taken back (again) in memory, to my mother's
lap, and my favorite childhood story of a slow puppy who didn't fit in,
either, and his adventures before the eventual return to his large, happy family.
How delightful to know that children of any age can be taught that imitation
is flattery, character development is a natural outgrowth of social
development, and family members can often be your best friends.
The illustrations are beautifully detailed almost beyond belief, and the
attention to color and innuendo in each page makes this lively, lovely book a work
of art. It's nice to have such a book to have on the coffee table, for story
time, and for gifts to anyone who loves children. ANYONE could enjoy this
warmly amusing tome of rabbitry, social interaction, personal growth, thrift,
industry, and finding your way back home. I love the gentle lessons.

Hop-a-Long Hollow is an enchanting, gentle land of Hope. And Hope is what
you have when everything else is gone.
Claire Welch, MSN

Dear Mrs.Landers,
Your book Hopalong Jack and the Blue Bunnies was great!
I can not wait to tell all the kids in my class and our librarian.
I bet she will want a copy of your excellent book to put in our school
library.
I can't wait until your other books about Hopalong Hollow come out I want to
read them all.
Your Friend,
Emily, 9 Years old from Maryland Thankyou Emily!

"There is nothing more thrilling than reading a superior quality children's book. Hopalong Jack and the Bunnies' is stimulating visually and in its literary content. I read hundreds of children's book and I would put this book at the very top of the best of the best. I would like to let you know, Hopalong Jack and the Blue Bunnies kept eight adult women busy for an hour trying to locate the 'Hidden Bunny" on the last page of the book! Kathryn Jenkins, Pathways Within

" Your book Hopalong Jack is one of the most
awesome illustrated children's book that I have ever seen. The students in
my classroom have enjoyed me reading the book to them and want to hear
repeat.Thank you for contributing such a wonderful piece of
literature to our young people. " Nedra Frady Third grade teacher

Editorial Review:
....The illustrations are incredible, and the story is a particularly poignant one...If you collect children's books that qualify as art, this is a must have. One the literal side, the story opens a wonderful door to talking about feelings and self esteem. On the creative side, there is plenty to seek and learn about the art and "hidden objects Terry Doherty, founder of The Reading Tub, Inc. and judge of the "Moms Choice Awards"

Editorial Review "…..the story is interesting, but even more intriguing are the beautiful watercolor illustrations……There seems to be something for children of all ages, including finding a hidden bunny in each picture, new words to read and, and plenty of art to keep the attention of young readers or listeners….. The story is magical as children escape beyond the thicket of berry bushes . As it is with most good children's books, the ending is a happy one. …We are left with visions of bunnies dancing, but most important, a child is left knowing he, too, is special even among a "sea of bunny ears". Carla Cody , Citizens Tribune, Morristown

" I was walking threw my living room yesterday and saw a book lying on the
table. It caught my attention as it looked like a parlor book from the early
1900's. I picked it up and started to thumb threw it. I was instantly
impressed with the lavish illustrations, the more I looked at the art work
the more I saw. The next thing I knew I was reading. It was obviously a
children's book, in keeping with the early American illustrations, the
writing had a turn of the century feel. I read on and found myself immersed
in the story of a little rabbit, his family, his home, neighbor hood, world.
It was so well done it felt real, there was even a map of the village and
surrounding area. As I read on I saw the theme of the story evolve, which
was, " you don't have to dye your hair blue to be different, we are all
different, so be yourself ".

"I loved the book, even though it is a children's book, I will keep it on
my coffee table as a conversation piece. Not only do I think all children
should read it but it would be a great idea if teenagers would read it too.
It is destined to be a classic. "
Rick Malsnee, Atlanta, GA.

"Welcome to Hopalong Hollow and enjoy your stay!" With these words Jeri Landers invites the reader into a magical community of rabbits who live in hollow trees with all the cozy comforts of home. Not since Beatrix Potter's water color creations have I enjoyed an animal habitat so much! Landers incredible watercolors are full of depth and imagination, activity and so much fun you want to join in. Hours upon hours can be spent with a small child exploring the paintings of the hollow, its inhabitants and the cozy burrows with their well-stocked shelves, tiny teapots, shiny cook pots, and overstuffed chairs. Even the tiny mice in the root cellar have tiny beds, teeny tiny toys, and all the teeny tiny comforts of home.
Hopalong Jack has no less than 22 brothers and sisters not to mention numerous cousins in Hopalong Hollow, and with so many relatives, how does one bun stand out among so many? Jack is charming, clever, and engaging and his solution to his problem is a lesson we all need to learn.
Don't miss Hopalong Jack and the Blue Bunnies. You will be enjoying it for years with every small child who crawls into your lap." Marty Vaughn MSIS Librarian, Girls Preparatory School Chattanooga, Tenn

"Hopalong Jack and The Blue Bunnies is one of those rare and wonderful stories that appeals to all ages. The pictures are filled with great detail that can be used for discussing things such as the weaving, dyeing, and quilting. The rich vocabulary would be great for classroom activities in upper elementary grades. Like many of us, Hopalong Jack is taking that personal journey of finding out what makes him special and unique in his busy and crowded world. Enjoy your trips to Hopalong Hollow! Every time you go there you will find something new and interesting in the text and in the pictures." Tricia Pugh, former teacher,,, current business owner

"I liked the part where the bunnies rolled around in the blueberries! They
looked so funny."
Aly, Linley,Nathan,Spencer,Tara,Neha,Matthew
"I loved the part where the blueberry fell out of his ear." Andrew
"I just loved the little blue bunnies!!" Madison
'I thought it was a good idea to have the beds stacked. I would like to
sleep on the top bunk."
Caden

Book Review: "Hopalong Jack and the Blue Bunnies is a genuine work of art. Suitable for all ages for not only the storyline and the 'bunny search' but the beautiful art, it's a perfect addition to every home or community library!" Morgan Bowes :Blaine Public Library Director

Dear Jeri Landers,
"I just finished reading your new book Hopalong jack and the Blue
Bunnies. It was delightful. My students said "Read it again" that is
always the sign of a great book!
Sincerely,
S. Roberts

"I liked it when Jack tried to act like a Peacock."
Katie Beth, Sarah

Dear Jeri Landers,
"I liked it when Jack put on the antlers. It was so funny!"
Megan,Mary,Vanessa

"I liked the big fluffy cat because he looked so pretty and he reminded me
of my cat."
Catie,Kirsten

"I read your book to the 2nd graders at Evarts Elementary today and they loved it! Thanks for such a wonderful story and such exquisite artwork." Pauline Boggs Educator

"The illustrations are beautiful and the colors
very vibrant. I love all the little sidebars to challenge a child's search
and be attentive to details. It is entertaining but also becomes a source
of education when you pique their awareness for "Finding". Fun way to
learn." Lynn Carroll, Art teacher, McCallie Private School

"The Hollow is a magical, comforting place to visit. Your artwork has such a unique flavor to it- the characters and the colors feel like old friends......" Deborah Mercy / Quilter and Mother

"Jeri Lander's, Hopalong Jack and the Blue Bunnies, is a very special book. The story is a universal and important message for children of every age, as Hopalong Jack searches for the answer to how he can make himself special. Each illustration is a work of art, intricately and masterfully detailed. The illustrations alone will capture a child"s imagination and hold their attention, even if they can't yet read the story themselves. The rhymes and "secret" at the conclusion of the story are fun and whimsical. They invite the reader to explore the pages for hidden bunnies, while introducing them to the habits and lifestyles of the bunny families in Hopalong Hollow. Hopalong Jack and the Blue Bunnies is beautiful both in content and illustration, and should be a part of every childs library." Peg Howard, Mother and Journalist

"I have just enjoyed my first visit to Hopalong Hollow! What a delightful
bunch of buns! Jack's story is one that every grandmother would love sharing
with her little ones. What a lesson Jack learned! I can't wait to introduce
my little ones to Jack and all his brothers and sisters"" Bea T. Grandmother of three

The book is not only beautifully illustrated, there is also a lesson in it which is lacking in so many stories today. The lesson is to be yourself. We do not have to do what others are doing or take unusual measures to be special, because everyone is special in their own way. Sharon Maddix, Artist and grandmother

"Great story! Fabulous artwork. Wonderful for children and adults. Enjoyed looking for the blue bunny. Looking forward to your next book." Ann Cason The Creative Factory- Grainger Today

"I received my book yesterday! It is absolutely wonderful, such a pleasure
to open, touch and read. I have spent ages gazing at the detailed pictures,
noticing more each time - having trouble finding all the 'blue bunnies'
though....."Shauna B. (note from Jeri: some are very well hidden, go the the hidden bunny key on this website

"I got your book this week and have really enjoyed reading and
rereading it. I even read it to my papa who is bedfast and has
Alzheimer's. He loved it! It is so charming and the illustrations are
full of wonderment!" Ellen Goode Dollmaker

"Its truly wonderful! My daughter and I scoured the book, and when we were done, did it again. Your work is just so intricate and so detailed. We stare at each picture and just marvel at all the little details. It's just so fun to go over and over it. Thank you so much. Your work truly makes people happy to look at
and to have around. I look forward to more Hopalong Jack tales." Susan H.

"Hopalong Jack and the Blue Bunnies is wonderful! The story has a great message and the artwork is splendid. Such captivating book illustrations I have never before seen." Pat R.,, grandmother of 6

"It's a wonderful, magical story! And the poems are
delightful!" Lynda Medlyn Writer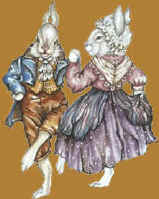 We thank you for your review.

If you would like to write a customer review, we will be pleased to post it. Please include your first name, age and occupation.