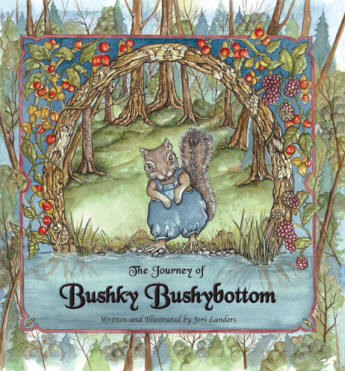 Winner of the Gold "Moon Beam Award" for Best Illustrator
Winner of the Silver "Benjamin Franklin" Award
Winner of the Bronze "IPPY"
Winner of the Gold "National Best Books"
12"x12" Hardcover book with dustcover, 36 pages includes audio cd
Cost $21.00 plus S/H
We accept Master Card, VISA and checks


The adventure of a little lost squirrel

The idea for this book was born when my son Dylan brought a baby squirrel into our home. We had been experiencing wild windstorms for a few days and apparently the gusts had blown an entire squirrel family from their nest. The other family members weren't so fortunate as this little fellow, whom I named Bushky Bushybottom.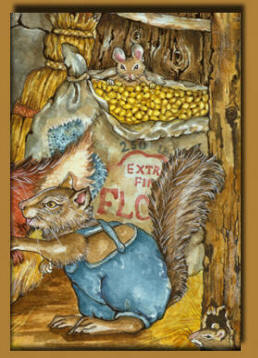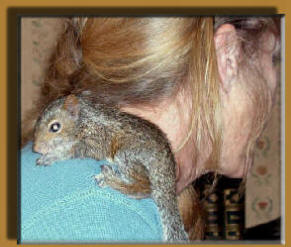 At first I knew nothing about raising an orphan squirrel, but was soon an expert in squirrely nutrition.....feeding him a yummy, milky mixture every four hours through a syringe. To my delight he devoured this most avidly, eventually graduating to baby cereal, peanuts and corn. He really loved cherrios! ( just like me) Suffice it to say, Mr. Bushybottom grew heartily for several weeks until he decided that the open road was the life for him and chewed his way ( literally) out of the house and into the wide, wide world! This little fellow was the inspiration for my story, which takes place in Hopalong Hollow, and is the ADVENTURE of a little lost squirrel.

We took many photographs of Bushky during his brief stay. The picture on left is itty baby Bushky ...then a few weeks later.....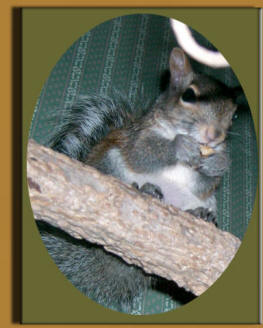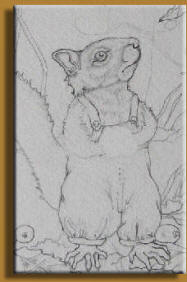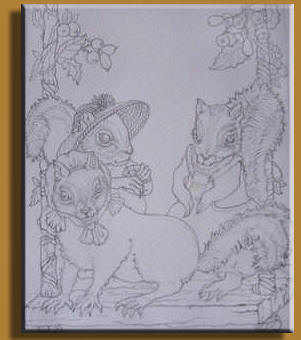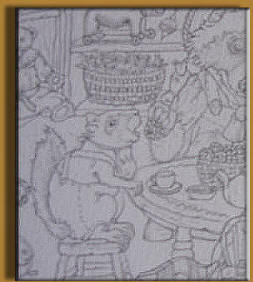 My process for doing the illustrations is as follows: After many rough sketches I create very detailed pencil drawings directly onto my watercolor paper. Since my books have 36 pages, endpaper art and, of course, an illustrated book cover, this can take up to 1 year. When all the drawings are complete I go back to each drawing and paint with watercolor directly upon my pencil work. The drawings you see above are portions of illustrations. This is a very time-consuming process ( about 2 years in all). I think it is worth the time spent. Since I love to fill every single space of my paper with art, I must remind myself to Leave Room for the Words!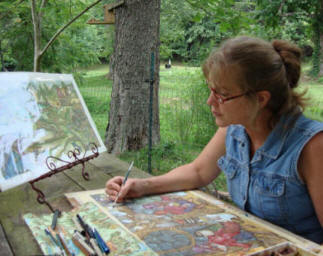 A few new characters living in and around Hopalong Hollow ...... This is Trudy Webbytoes. As you can see, she is a fine artist.
| | |
| --- | --- |
| | |
Hector and Louie run the Ferry service. If you need a ride across the pond, the cost is 2 crickets and 1 worm.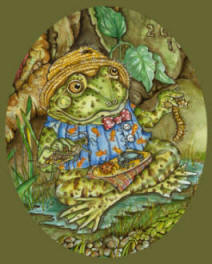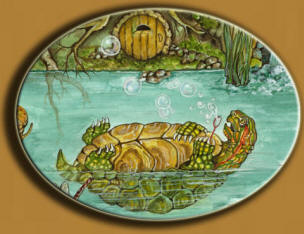 Some interesting things to look for in this book:
There are over 100 "hidden" woodcarvings to find.

Hopalong Jack appears 10 times in this book, can you find him?
There is a little honey bee on each full page..... he is important to the story. On some pages, you really have to look for him!

Bushky is lost.... but do not despair, there is always a little search party out looking for him!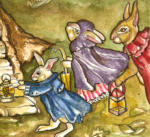 On the double page inside the barn is a hidden bit of trivia concerning a beloved author and illustrator. There are 5 clues.. See if you can figure it out in your book!